Tula


Tula started off 2006 in England, Brighton and worked with producers like Steve Osborne (Elbow, New Order, U2), Simon Lord (Simian, Black Ghosts) and Dave Mc Cracken (Ian Brown, Beyonce). The band has relocated in Berlin about two years ago.
Tulas interest in remote natures of sound makes the band approach song-writing and concerts in a cautious and very sensitive way: there is an organic and dynamic play with expectations and a gradual extrications of melodies and rhythms. There is something very visual about their sound – luring the audience onto a warm yet unexpected journey with its deep dramaturgy.
So far, Tula has released two singles at the UK-based label Static Caravan Records and toured Sweden, England and Germany. After the spring tour in march and april in germany, Tula plan to tour Europe and release the debut LP in this autumn.


Ensemblemitglieder
Fanny Risberg (vocals), August Zachrisson (guitar), Andreas Dzialocha (bass), Nikolai Petersen (drums), Simon Meyer (keyboards)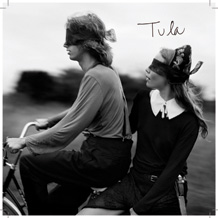 Foto: Tula