Figura Ensemble


A mezzo-soprano, three musicians, a composer, a poet and an architect – FIGURA Ensemble is a musical collective with a mind of its own.Each of the seven artists of FIGURA are among Denmark's most respected – Helene Gjerris, Jesper Egelund, Frans Hansen, Anna Klett, Peter Bruun, Filippa Berglund
 and Ursula Andkjær Olsen.Together, over the last 19 years, FIGURA has challenged both collaborators
 and audiences alike with exceptional concerts and modern music theatre – not to mention their 'Small Composers' workshops that reach out to the coming generation of music-lovers. FIGURA's Small Composers project received the YEAH! Young EARopean Award in 2011. the same year Helene Gjerris received the Danish Composer's Society's Musician Price. In 2009 FIGURA Ensemble received the most prestigious Danish Theatre Award, The Reumert Prize for the Best Children Theatre of the Year 2009.
 The awarded play "The Story of a Mother", is a co-production with Corona La Balance/ZeBU. H.C. Andersen's moving story told through modern music theatre with contemporary music by the composer Steingrímur Rohloff.
Ursula Andkjær Olsen was nominated for the Nordic Council Literature Prize 2009 and was awarded by the National Arts Foundation Literature Committee for her literary work "Havet er en scene" (The ocean is a stage).
In 2006 Peter Bruun won the Nordic Council Music Prize 2008 for the opera MIKI ALONE with libretto by Ursula Andkjær Olsen. MIKI ALONE is a musical monodrama - a chamber opera for one voice and four musicians, the monologue of a human being in a belligerent world - about a modern woman's life - subtitled Seven Songs for a mad Woman. It was premiered with FIGURA in 2002 at Den Anden Opera in Copenhage.


Ensemblemitglieder
Helene Gjerris (Mezzo-Sopran), Jesper Egelund (Kontrabass), Frans Hansen (Schlagzeug), Anna Klett (Klarinette), Peter Bruun (Komposition), Ursula Andkjær Olsen (Schriftstellerin), Garth Knox (Viola)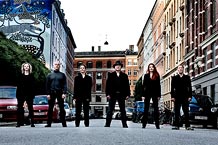 Foto: Ditte Valente